Happy February! February is a time to celebrate love and community in all spaces. Whether it be a night out with friends, a romantic dinner, or a special Sunday Night football game, these mouth-watering dishes are sure to fill your heart (and your belly) with love. If you don't care for the game of football, you can still enjoy these delicious meals while socializing with friends!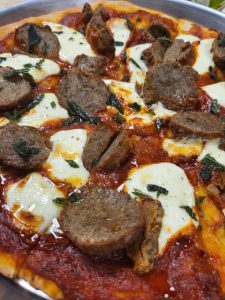 Truffled Meatball Flatbread Pizza with Fried Sage
Meatballs
2 pounds ground beef, 80% to 90% lean meat
2 large eggs
2 tsp truffle oil
1 cup breadcrumbs, plain or Italian-style
½ cup parmesan cheese, freshly grated, plus more for garnish
½ cup yellow onion, finely minced
2 teaspoons truffle salt
1 teaspoon black pepper
1 teaspoon Italian seasonings, omit if using Italian-style breadcrumbs
3 teaspoon minced garlic
Instructions:
In a large bowl, add the ground beef, eggs, breadcrumbs, parmesan cheese, minced onion, salt, black pepper, Italian seasoning, and minced garlic. Use hands to mix thoroughly until combined.
Measure and roll the ground beef mixture into ⅓ cup (3 ounces) rounds, about the size of an egg. Evenly space the pieces on the baking sheet, there should be about 14 to 15 meatballs.
Broil the meatballs until the surface is browned, about 10 to 12 minutes. Turn over and cook for an additional 2 to 3 minutes to lightly brown the other side. Let rest overnight.
Flatbread- use a thin flatbread or substitute with naan bread
Pizza Sauce
2 cans san Marzano plum tomatoes
1 cup evoo
1cup red wine
¼ cup garlic cloves
2 bunches basil
1 bunch fresh oregano-picked
2 leeks bottom end only, roughly chopped
2-3 medium shallots, roughly chopped
1 medium sweet yellow onion, roughly chopped
Instructions
In a braising pan, preferably with a thick bottom or using a les cruset, and at medium- heat add your 1 cup evoo, onions, shallots, leeks and garlic, caramelize for 3-5 minutes
Add your red pepper flake, tomatoes, red wine and simmer for 10-15 minutes
Add your basil (the whole bunch with stems), picked oregano, cracked pepper. Simmer for an addition 20-30 minutes on low heat or until your sauce has reduced by ¼.
Using a food mill set into a large container, gradually add your sauce mixture, grinding it down and pureeing it.
Let your sauce rest for 15 minutes.
Using a hand blender, gradually add your ½ cup of evoo and season with salt. This will give your sauce a velvety smooth texture and flavor
Fried Sage
Pick about 3 bunches of sage leaves, in a shallow skillet add canola oil. When the temperature has reached 300-350 degrees, gradually add your sage leaves and fry until crispy.
Pull from fryer and lay on top of paper towel on a plate, leave at room temperature until needed.
The build
Slice your meatballs into 1/4 " rounds
Add sauce to your flatbread, tear pieces of your fresh mozzarella cheese (don't put too much as fresh mozz has excess moisture and will make your pizza watery)
Fill in the empty spots with your meatball slices. Bake at 400 for 5-8 minutes if convection or 10-12 minutes if dry heat oven.
Cut your pizza, crush and sprinkle your crispy sage all over the pizza
Garnish with extra truffle oil and truffle salt to taste.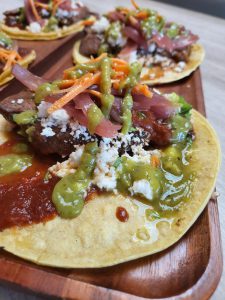 Slow braised brisket tacos with serrano blueberry bbq sauce
For the brisket:
5-8lbs. of Pomponio Ranch brisket, point piece
½ cup Dijon whole grain mustard
1 cup Montreal steak seasoning
1 cup dark brown sugar
1 gallon dark beerè stout, porter or even a dark Belgian will do
Prep:
Pat the brisket point piece dry with paper towels. And lather it up with the Dijon whole grain mustard. This will act as a binder for your rub.
Combine the montreal seasoning and the brown sugar. And rub all over the brisket. Let marinate over night.
Place in a roasting panè add beer, cover with foil and cook at 300 degrees for 8-10 hours
Let rest for 25 minutes before slicing.
For the sauce:
2 tbsp olive oil
3 yellow onions julienned
½ cup garlic cloves whole
2 serranos peppers, rough cut with seeds
2 cups orange juice
2 qts frozen blueberries
2 tbsp Mexican oregano
3 tbsp ground cumin
1 cup molasses
2 tbsp tomato paste
Salt and pepper to taste
Prep:
In a les cruset or brazier pan, and at medium heat add your olive oil, onions, garlic and serrano peppers.
Caramelize for 3-5 minutesè add frozen blueberries, cumin and Mexican oregano. Continue cooking for 8-12 minutes.
Next, add the molasses, and orange juiceè reduce to a simmer and cook an additional 15-20 minutes. If the sauce needs to be thicker (more like bbq sauce) add the tomato paste to thicken.
Season with salt and pepper. If it is too spicy for you, cut with more cumin.
Sauce will last for over 30 days if covered correctly.
For the taco:
Crumble some Mexican casero cheese.
Grill the la tortilla factory corn/flour blended tortillas
Slice your brisket against the grain in ¼" slices
Lay two slices on your grilled tortillas, drizzle some of your serrano blueberry bbq sauce, top it with your casero cheese. Garnish at your leisure.
Blackened Salmon
2 bunches asparagus, cut off the root end just above the bottom rubberband
Toss with olive oil and montreal seasoning, save for later.
The Salmon:
6oz pieces of center cut salmon, you can have your local butcher cut these for you.
Rub with olive oil, and add blackened seasoning (you can use store bought)
Blackened Seasoning (non store bought):
2tbsp chili powder
1tbsp cayenne pepper
1tsp black pepper
2tsp kosher salt
3tbsp ground cumin
2tbsp ground coriander
Mix together in a bowl using a fork.
The mango salsa:
3 cups small diced mango (you can buy small diced mango in the freezer section at your grocery store)
1 red onion finely diced
2 red bell peppers finely diced
1 bunch cilantro finely chopped
1 bunch fresh mint finely chopped
3 tbsp sparrow lane pear vinegar
Salt and pepper to taste
Combine all ingredients in a bowl, mix well and refrigerate for later.
Saffron Risotto
6 cups low-sodium chicken broth
3 tablespoons extra-virgin olive oil
2 cups uncooked Arborio rice
2 medium shallots, minced
1 cup dry white wine
1/2 teaspoon saffron threads
3/4 teaspoon fine sea salt
1/4 teaspoon black pepper
3 ounces Parmigiano-Reggiano cheese, finely grated (about 2 cups), plus more for garnish
2tbsp unsalted butter
Bring broth to a boil over high in a medium saucepan. Reduce heat to low, and maintain a simmer. In a second medium saucepan, toast oil, rice, and shallots over medium, stirring often, 3 minutes (do not brown).
Add wine and saffron to rice mixture; stir until wine is absorbed. Add broth, 1/2 cup at a time, stirring often until each addition is absorbed before adding the next and maintaining a bare simmer over medium. After 12 minutes, taste often until rice reaches desired firmness. It should not be crunchy, but a firm center should remain. The cooking process will take approximately 25 to 30 minutes, depending on the age of the rice and the heat of your stove. Season with salt and pepper.
Remove from heat, and stir in beef fat until melted. Add cheese, and stir to combine. Serve in very hot bowls or soup plates. Garnish with more cheese, if desired.
Pan sear your salmon with olive oil at medium heat. Cook until internal temperature reaches a minimum of 145 degrees F.
In a separate pan, grill your asparagus until al dente, set aside
Plate-up: 2-3 oz of risotto at the base, add 4-6 pieces of asparagus on top. Lastly, top with the blackened salmon filet. Garnish with the mango salsa.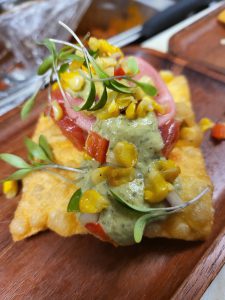 Poke Slider
1 pack medium wonton sheets.
3-4 cups canola fry or soybean fryer oil or you can use
10 oz ahi tuna diced into ¼- ½" cubes
3 ears of yellow corn
2 pasilla peppers
1# peeled tomatillos
¼ cup cloves of garlic
5 radishes
2 bell peppers
1 red onion
1 cup sparrow lane red wine vinegar
1 cup granulated sugar
1 cinnamon stick
4 jalapeno peppers
1 cup sour cream
1 bunch cilantro
1 bunch fresh mint
Tapatio
Micro cilantro
5 limesè zested and juiced
¼ cup lime juice
Marinate the diced ahi tuna with the zest of 2 limes, juice of 3 limes and 3 tbsp of tapatioè save for later in your fridge.
Pan-fry the Wontons:
In a non-stick frying pan, heat vegetable oil over medium-high heat for 2 -3 minutes. Place a batch of 12- 15 wontons on the pan, spacing them approximately 1-inch apart to prevent them from sticking together. Cook for 3 minutes until the bottom turns golden brown.
Air frying:
(You can use a perforated parchment sheet on the bottom to prevent sticking). Air fry at 350°F (176°C) for about 4 to 5 minutes, until golden. Flip the wontons over and air fry for 3 to 4 minutes longer, until golden brown and crisp
Corn salsa:
Peel and drizzle olive oil on your ears of corn, season with salt and pepper. Cook on cast iron until brown and crispy. Set aside and let cool. Cut your kernels off of the cob and place into a bowl.
Dice 2 jalapenos deseeded, small dice; 1 red onion, small dice; 2 red bell peppers, small dice; add to your bowl of corn, mix well
Add 1 bunch finely chopped cilantro and 1 bunch finely chopped mint. Season with salt and pepper. Add tapatio if you want it a little spicier.
Pickled radish:
Combine 1 cup sugar and 1 cup sparrow lane vinegar with 1 cinnamon stick into a small sauce pan and simmer at medium heat for 8-12 minutes.
While it is simmering, shave the radishes and 1 jalapeno thinly on a mandolinè turn off your pickling mixture, add in your radishes and the 1 jalapeno and let steep covered for 25 minutesè refrigerate for later.
Pasilla tomatillo crema:
toss your pasilla peppers, tomatillos, 1 jalapeno and garlic in a bowl with olive oil, salt and pepper. Roast at 400 degrees for 15 minutes.
Peel the skin off of the pasilla's and deseedècombine all ingredients in a vitamix (blender) and puree until smooth. Season with salt and pepperè combine in a bowl with the sour cream, whipping with a rubber spatula.
Plate-up: 1 crispy wonton at the base, add a spoonful of the ahi tuna poke, drizzle with the pasilla tomatillo crema, add a spoonful of the corn salsa, 2-3 slivers of the pickled radish, top with micro cilantro.