As we kick off the new fiscal year, we want to highlight the good work of the Diversity Taskforce, the successes of the Bay Club's D&I efforts, and how the Bay Club has impacted our communities of focus since the inception of our focused Diversity and Inclusion program.
Throughout this journey, much of the work has been geared towards:
Building community
Providing opportunities for all associates to grow as people and spreading awareness about important D&I  topics
Making connections with other industry leaders to impact the hospitality,  sports, and luxury fitness space
Finding ways, to not only enhance our pipeline of diverse talent, but to provide entry to a space that might not otherwise have been accessible to minority groups
See below for some of D&I's important milestones thus far, as well as some inspiring testimonials. We are excited about what's ahead in 2022!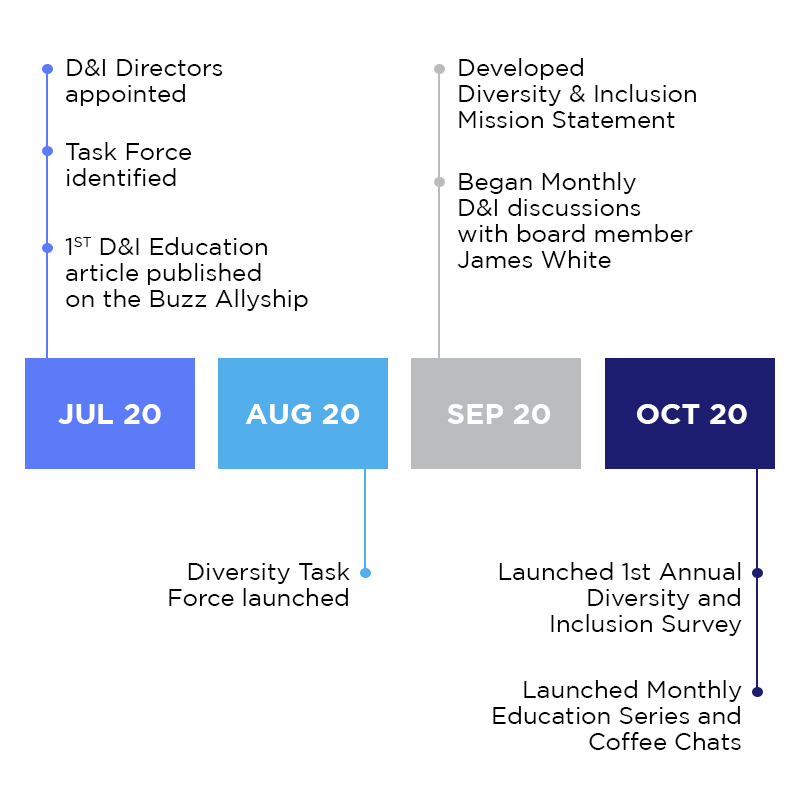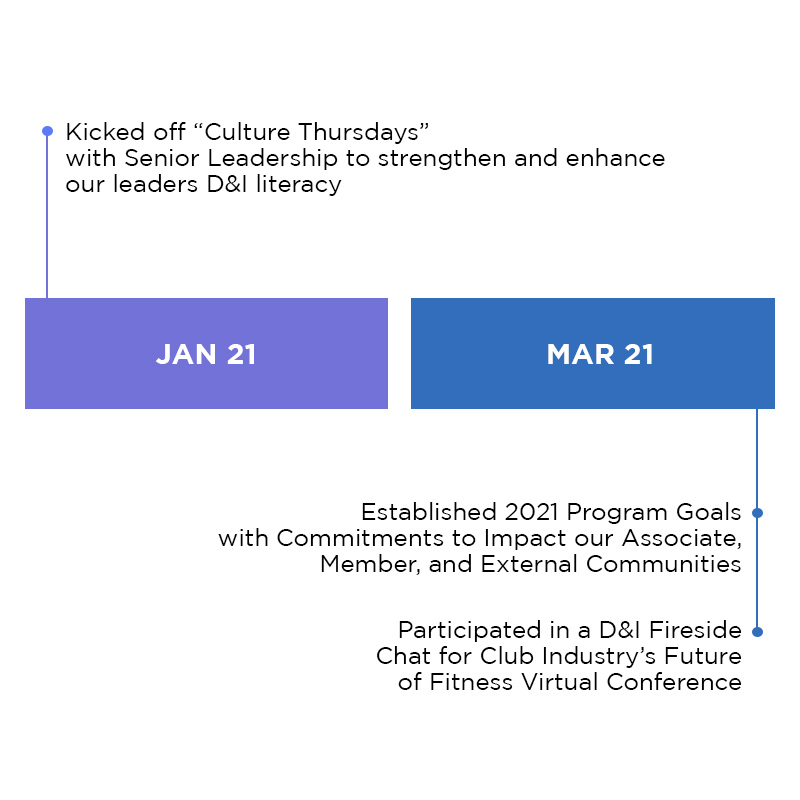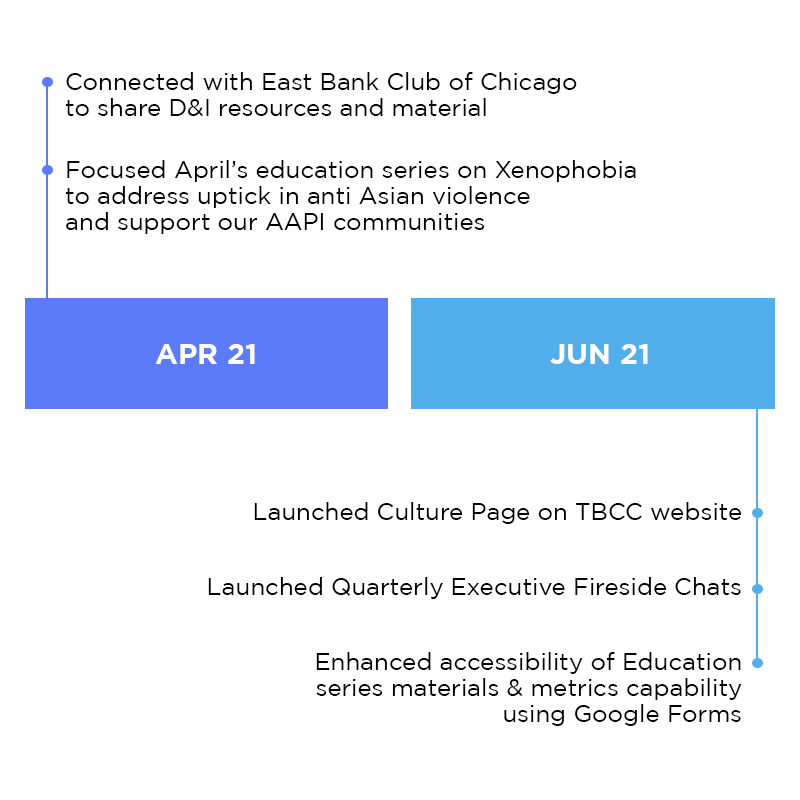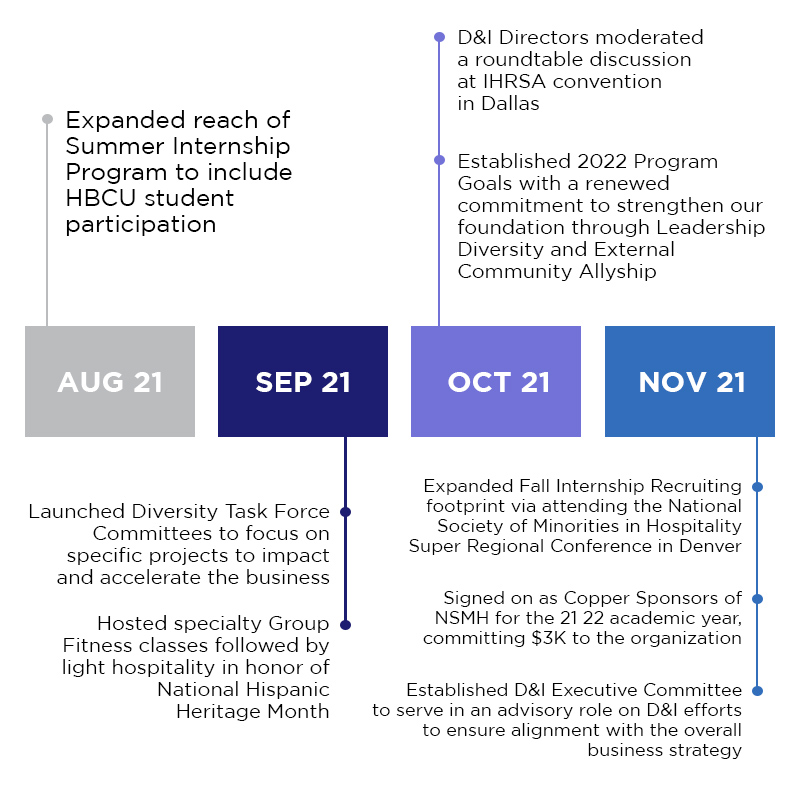 "I truly appreciate Bay Clubs Diversity and Inclusion initiative. As a Club Manager, the sharing of information has opened many doors that may have closed. The space to explore diversity and inclusion has given me the confidence to have difficult conversations in a safe space. I find high value in Bay Clubs' expectation that Diversity and Inclusion is everyone's responsibility not just those who have been negatively affected.  I am truly grateful for the education given to me by our Diversity and Inclusion Team. I have a new understanding of empathy and compassion. The knowledge gained with the Diversity and Inclusion Education Series is so powerful, every day I am surrounded by of all walks of life, I feel confident in listening and understanding the 'why.'" 
–Ann Glaser, Club Manager BCRB 
"Our Diversity and Inclusion platform has made me a better leader, no doubt about it.  The engagement we received from our D&I leadership team when starting the program presented an amazing mantra of listening and embracing an inquisitive nature around chosen topics.  At the club level, we are constantly supported and encouraged to grow the message to more and more associates on ourteam, as well as contribute our thoughts to the larger D&I journey.  I've found the education and exposure to unconscious bias, empathy and microaggressions have stayed with me, becoming a part of the way I think about situations within the business.  I've overcome any hesitation to speak up by asking questions on subjects that may be newer to me and in doing so, can more honestly ask others on our team to do the same.  I'm very excited to continue our field-level involvement in the program and engage in additional important areas, directed by our very talented D&I leaders." 
–Todd Kramer, Executive Vice President –Northern California
"The TBCC D&I efforts have made a tangible impact across our Campus. The education that brings greater awareness around the different topics was an important first step and then putting it into action and daily practice has been the next step. We see a heightened level of sensitivity, broader understanding and support, and a wider variety of tools from the toolbox being applied. We haven't come this far only to come this far. We will continue to prioritize the time to have open discussions and honest dialog around the different topics and continue to make progress!" 
–Robyn Vanderluit, Senior Vice President 
Thank you for reading this post!  Click here to get entered to win a $20 Amazon gift card.