Happy Fall! Make the most of this wonderful season by making these delicious recipes.
Apples
Starting off strong with a fall favorite, apples! Whether it be fuji, granny smith, or gala, apples are a fall staple. Snuggle up on a chilly afternoon and make some warm, cinnamon apple cider. If you love to bake, apple pies and apple strudels are a tasty way to get into the fall spirit.
SVP of Food & Beverage, Jeff Longenecker, has a delicious Apple Bourbon cocktail, or mocktail (without the bourbon).
APPLE CIDER COCKTAIL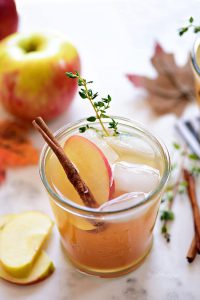 Ingredients
2 ounces Buffalo Trace bourbon
2 ounces unfiltered apple cider
½ ounce fresh lemon juice
3 ounces ginger beer
Garnish: Cinnamon stick, apple slice, spring of thyme
Instructions
In a shaker or mixing glass with ice, pour in the bourbon, cider and lemon juice
Stir gently
Strain into a rocks glass with ice
Add the ginger beer
Garnish with an apple slice, cinnamon stick, and spring of thyme. Enjoy!
*For a mocktail version, simply omit the bourbon.
Pumpkin
Fall just isn't fall without pumpkins! Make some homemade pumpkin pie, pumpkin syrup for pumpkin spice lattes, or roast some pumpkin seeds as a snack. If you want to upgrade your pumpkin pie, Jeff has a recipe for a White Chocolate Pumpkin Cheesecake!
WHITE CHOCOLATE-PUMPKIN CHEESECAKE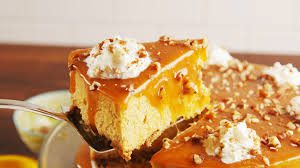 Ingredients
1 1/2 cups crushed gingersnap cookies
1/4 cup butter, melted
3 (8 ounce) packages cream cheese
1 cup sugar
3 eggs, lightly beaten
1 teaspoon vanilla extract
5 ounces white chocolate baking squares, melted and cooled
3/4 cup canned pumpkin
1 teaspoon ground cinnamon
1/4 teaspoon ground nutmeg
DIRECTIONS
Preheat the oven to 350 degrees.
In a small bowl, combine the gingersnap crumbs with the butter. Press into the bottom of a greased 9-inch springform pan. Set aside.
In a large mixing bowl, beat the cream cheese and sugar until smooth. Add the eggs and vanilla, and beat on low speed until combined. Stir in the melted chocolate.
Combine the pumpkin and spices in a separate bowl. Then, gently fold the pumpkin mixture into the cream cheese mixture, and pour over the crust.
Place the pan IN A WATER BATH and COVER. bake in the preheated oven for 55 to 60 minutes or until the center is set. Cool on a wire rack for 10 minutes.
Although pumpkins are often used for desserts, they can easily be made into savory recipes, too. VP of Food & Beverage, Jesse Frost has a cheesy bacon pumpkin risotto that sounds absolutely incredible.
PUMPKIN RISOTTO W/BACON, PARMESAN, AND ARUGALA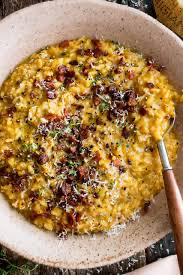 Ingredients
½ lb. bacon, diced
1 small onion, finely diced
1 qt stock (vegetable or chicken)
1 cup pumpkin puree
2 large sprigs fresh thyme
kosher salt
freshly cracked black pepper
1 cup arborio rice
½ cup white wine
2 tbsp. butter
1 tbsp. maple syrup
¾ cup freshly grated parmesan cheese
2 cups arugula greens
Instructions:
Add the bacon to a 5-6qt Dutch oven (or heavy-bottomed pot) in an even layer over medium-low heat. Slowly render until crisp, about 12-15 minutes, stirring occasionally. Use a slotted spoon to transfer the bacon to a plate lined with a paper towel.
Add the diced onion to the hot bacon fat. Sauté over medium heat for about 5 minutes until softened. Meanwhile, heat the stock in a small saucepan over medium-low heat until just barely simmering. Whisk in the pumpkin puree. Keep the liquid warm over low heat.
Add the sprigs of thyme, a pinch of salt, and a few cracks of freshly cracked black pepper to the onions. Stir in the arborio rice. Allow to toast for a minute or so.
Add the white wine. Use a wooden spoon to stir until the rice has absorbed the liquid. Start to ladle the heated stock into the pot, one ladle (or about a ½ cup measurement) at a time, stirring after each addition until the liquid has been absorbed. Continue until you've added all of the liquid. This process should take about 20-25 minutes or so.
Remove the sprigs of thyme. Stir in the butter, honey, and a ½ cup of the parmesan cheese. Once the butter and cheese have melted, serve the risotto immediately. Garnish with the crispy bacon, remaining ¼ cup of parmesan, and more black pepper. Toss arugula in olive oil, salt and pepper and place on top of the pumpkin risotto.
Please share your thoughts or questions on any of these delicious fall recipes in the comments below!