We all know that the strongest teams are made up of collaborative individuals with diverse experiences, skills, and perspectives. Celebrating common interests, as well as differences, allows us to unite and fully experience one another's authenticities. With that in mind, we want to provide a space to learn more about the cultures, languages, religions, and holidays that make the world go round!
International Day of the World's Indigenous People (8/9), Islamic New Year (8/28), Pan-African Flag Adoption (8/13),  and Women's Equality Day (8/26) are all celebrated this month.
August is also National Black Business Month in America. What better way to celebrate than recognizing and supporting black-owned businesses across our regions? According to National Geographic reports, the COVID-19 pandemic disproportionately impacted minority-owned companies. Reports showed that the greatest disruption was seen in the black community, with  41% of Black-owned businesses being negatively impacted. Below are a few links to sites that highlight black companies that could use your support, as well as some local favorites recommended by Bay Club Associates! 
If you would like to shout out a black-owned business, please share the name and website in the comments below.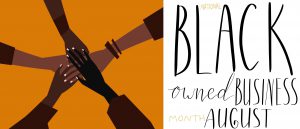 Oregon
 San Diego

Dining & Treats

Services

Books & Entertainment

 North Bay
South Bay

Dining & Treats

Specialty

 East Bay
 Los Angeles
Books & Entertainment

Dining & Treats

Health & Beauty

Specialty

Dining & Treats

Retail
Have a favorite black-owned business you'd like to shout out? Drop the details in the comments below, and we'll add them to the list!