Bay Club Roots allows our Associates to share the love and dedication they have for the communities, people, and organizations that have contributed to their diverse background and broad understanding of the importance of inclusion. Thank you to everyone who submitted nominations—we can't wait to share more of your unique stories in the coming months.
This month, meet Carlos from Pacific Palisades, who spoke about his club as a place of respect and one for which he feels gratitude.
"The love of one's country is a splendid thing. But why should love stop at the border? — Pablo Casals (Spanish Cellist, Wrote music for UN Anthem for world peace, 1963 Presidential Medal of Freedom: b. 1876- 1973)
 Carlos Ajanel | Housekeeping Attendant at Bay Club Pacific Palisades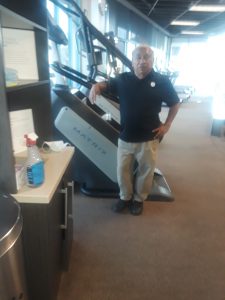 I was born in Mazatenango, Suchitepéquez in Guatemala, where I also grew up. Despite living there into my adulthood, I have lived in the US for thirty years where I now have spent the last four working at Bay Club Palisades in the housekeeping department.
Diversity is not new to me, I grew up around a family who spoke the dialect of the cakchiqueles ethnic group. While I do not speak it, I am proud to say I have an indigenous background, which my father was also proud of. Aspects like this further reinforced my belief that through diversity we learn from others and give ourselves the chance to evolve into better people.
People in Guatemala believe in a strong work ethic; my mother worked very hard to allow me an education and to go to college. And I am grateful for my father because he was my unspoken example of this quality. He was an intelligent man who became a great builder in the country and who gained recognition despite never going to school. I was able to learn a lot just by watching them grow themselves. They were honest, transparent people with humility; and to this day, I admire my father's intelligence and skill. He was faster than me when doing mathematical calculations and was called a master in construction. Without a degree, he had such experience and skill that he was an expert in his field.
At work, I take pride in showing my willingness to chat with others and to show respect to everyone regardless of who they are. I want others to feel my support and hard work; I strive to continue to develop myself and help others who could use my help and knowledge in my field. I have enjoyed all these years working in my role and would say that my advice to others is to come to work with the intention to show the desire and passion for your role "No matter what it is".
Do you know someone in our Bay Club team you would like us to showcase? Write to us at hr@bayclubs.com with the name of your nominee.