Bay Club Roots allows our Associates to share the love and dedication they have for the communities, people, and organizations that have contributed to their diverse background and broad understanding of the importance of inclusion. Thank you to everyone who submitted nominations—we can't wait to share more of your unique stories in the coming months.
This month's Roots article will introduce you to a colleague that brings a smile to our team; the joy and appreciation he feels for his role brightens our day and reminds us that hard work can be fun and rewarding. Meet Wayne Sangcap of Bay Club Walnut Creek.
Wayne Sangcap   |    Dishwasher at Bay Club Walnut Creek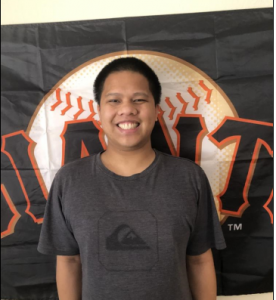 I was born in San Diego, CA, and I have Filipino heritage; I am 25 years old and work in Bay Club Walnut Creek's restaurant as a dishwasher. My story with Bay Club began this summer after I expressed interest in this role to my job coach at Best Buddies; since then, I have liked my work tasks and meeting new people to whom I get to greet in the mornings. I look forward to coming to work.
There is a lot I enjoy doing; art has always been a passion of mine that started early on and that I continued to practice while attending school; I particularly like ceramics which ultimately led to an A.A degree in Art in May of 2020. I also have a certificate in horticulture that led me to gain some experience with plants and greenhouses and enjoy playing video games, watching movies, listening to music, archery, and playing golf.
In the future, I would like to travel around the world, see Europe, Canada, and different parts of the United States like Arizona, Washington DC, and New York.
I currently support the LGBTQ community, which I learned about from friends, and while I do not identify as a member, I am an ally.
Diversity in the workplace is important to me because it helps people get to know me; I have autism and I want people to know me. People with disabilities struggle to find work sometimes; if I could advise companies and the workforce, it would be to respect others, don't judge people, work hard and help others to make them happy, say "Hi" and be nice to others..
We hope you enjoy this month's Roots article and want to thank Wayne for providing us with simple, yet powerful advice about inclusion and a much-needed reminder of positivity in our daily lives.
Do you know someone in our Bay Club team you would like us to showcase? Write to us at hr@bayclubs.com with the name of your nominee.