Would you know what to do if you saw someone exhibiting symptoms of cardiac arrest? If you answered, no, please continue reading. The importance of being CPR/AED certified was exposed more than ever in the NFL game at the beginning of this month when a player, Damar Hamlin, collapsed after suffering cardiac arrest.  Because of the swift action of an athletic trainer who performed CPR on him immediately, he is still alive today, although still in critical condition.
In an article from CNN, they highlight two simple steps that you can do right away that could mean the difference between life and death.
Step 1:  Call 911 and use an AED
If you see someone with symptoms of cardiac arrest, call 911 immediately. You want to get professional help there as quickly as possible. When the heart can't pump blood to the brain and the lungs, the person may become brain-damaged or die within minutes.
If someone else is around, divide the duties. One person should call 911 while the other looks for an automated external defibrillator, or AED.
 Step 2:  Start CPR
After using the AED – or right away, if you don't have access to one – start chest compressions.
Put your hands in the center of the person's chest and press hard at 100 to 120 beats per minute. It may help to hum a song with this tempo like "Stayin' Alive" by the Bee Gees, Justin Timberlake's "Can't Stop the Feeling" or Lady Gaga's "Just Dance."
While people do not go into cardiac arrest often at our Clubs, it does happen.  In December, one of our members Nancy suffered at heart attack while playing tennis at out Fairbanks Ranch Country Club in San Diego.  We reached out to Cody Layton, SVP of Golf Course Maintenance, to learn more about his experience of performing CPR and using the AED on Nancy in the hopes it will help you if you ever find yourself in a similar situation.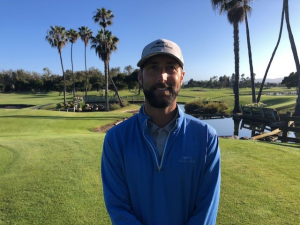 How did you know what to do when you were called to assist with this emergency?
That's a tough question because no one knows exactly what to do in an emergency situation.  I arrived on the scene with no idea what was going on.  There were members starting to panic on tennis court #1.  Paige Farmer had already grabbed the AED and I was able to get to Nancy.   Fortunately I received in person AED training by Nico Kintz prior to COVID.  I'm so thankful for having had that training and the tools on site to help Nancy.
What steps did you follow once you saw Nancy on the ground?
Once I got to Nancy I knew immediately that she needed help.  She was pale and non-responsive.  Another member had started chest compressions at that time.  That gave me time to focus on the AED.  The first thing you see when you open the pack are the scissors, so we removed her shirt and applied the pads as the pictures indicated.  The unit speaks to you the whole time so it's almost as if it's walking you through the steps together.  The AED required a shock, so we applied a shock.  The member continued chest compressions while I did the rescue breaths.  We repeated the process two more times until the paramedics arrived.
What advice would you give to anyone who has to perform CPR and/or use the AED?
If you ever find yourself in an emergency situation that requires the AED, be the figure that is calm and in control.  There may be people around that don't know what to do and they will be looking at you take the lead.  Give jobs to bystanders, have them flag down paramedics, get towels, and help with crowd control.  This is something that I would have done differently.  The crowd was definitely hard to deal with as you are trying to get the AED on and operating.
Anything else you think would be helpful to share?
If you ever are in an emergency situation first thing is to grab the AED on your way.  There is no problem showing up with extra tools to help.  If the person is in need of help just be willing to jump in.  This person is in the worst situation of their life.  Doing something is better than doing nothing.  Every chest compression and AED shock is one step closer to improving their situation.  Even if you don't do the process exactly correct your willingness to help could make all the difference.
We know that Nancy and her family are so thankful for the work Cody and the team at Fairbanks Ranch did to saver her life, and so are we!
The Bay Club is committed to providing a safe environment for our Associates and our Members.  As a part of that commitment, we offer continuing training and education on a variety of safety topics every month in The Buzz and in person drills at the Club.  Please check out this month's safety topics and drills:  Slips, Trips and Falls and Cardiac Arrest.
Additionally, if you are not currently CPR/AED Certified, we will be providing this training to you over the course of this year.  If you are a Personal Fitness Trainer or Group Exercise Instructor, you already have access to this online training through Club Connect.  If you have any questions, please reach out to Human Resources.